One of our jobs this summer involved closing in the underside of a deck.  The home belongs to a long time customer of ours that we have had the privilege of servicing for years.  The deck runs the full length of the back of the home which is almost 60 feet long.  The customer asked us to come up with a way to close up the underside of this deck.  It needed to be solid and a door needed to be built in for access.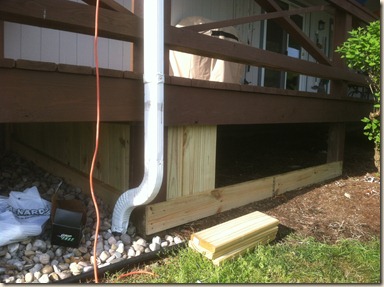 Using treated lumber, we placed a 2×6 length ways between posts.  This was reinforced with hidden stakes.  Then lying on my side underneath the deck, I installed decking boards vertically.  Finally, a sheet of 2 inch insulating foam board was secured on the inside up against the vertical boards.
In the middle of this project, I found out what the purpose was for it.  The lake behind the house was home to several ducks and they loved to nest up under this deck and lay eggs!
I spent half the time closing in the deck and the other half trying to keep the ducks out!  One particular duck kept trying to get in and hide under the deck.  With about 40 feet of the deck completed, this duck finally got past me one day.  And before I could chase her out she laid 14 eggs!  Before I finished, I had to get both her and the eggs removed.
The hidden door is in the middle picture above.  Can you see it???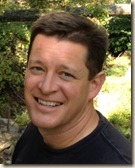 Shawn
Jack Home Construction and Remodeling and Handyman and DUCK REMOVAL SERVICES!
Hire us for all your ducking, I mean… decking needs.