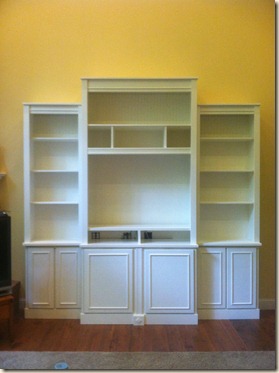 This was an interesting project that involved our trim skills and some furniture making skills.  An entertainment center for the family room.  This was built in place one section at a time.  First I set the base cabinets and attached them to the wall.
We designed the center section to fit the TV and to allow for cords from the PS3 and Xbox 360 to attach to the TV up from the bottom.
The center shelf section was built in the shop and set first and secured against the wall.  After that, each side shelf section was separately built and set into place.  Once set, after a little caulking and filling of the nail holes, we painted it in place.
We don't get this kind of work very often, but from time to time we do some built in custom cabinetry work.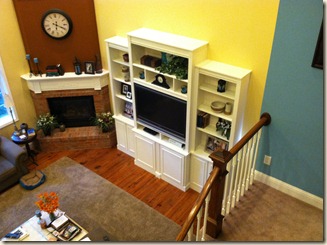 We build new custom homes.  We build additions, remodeling, and sometimes built in entertainment centers!  It's a living.
Jack Home Construction and Remodeling Sevices.
Call us today for your next project, no job too small.
618-995-2288