This is an unusual job for us in that almost all the lumber is "homemade."  Pastor George took trees that had fallen on his property during the May 8, 2008 storm and had them milled into rough lumber.  That is what we are using for the construction of his barn bay addition.
On Thursday, we finished the grading then we dug and poured the concrete piers.
On Friday, the gravel was laid in and spread to a depth of 3 or so inches.
Today, we set the upright 6×6 posts and and propped them up with stakes and angle braces after making sure they are plumb.
We fastened post brackets to the concrete piers using concrete tapcons.  Since the lumber is not treated, we daubed tar on the bottom and sides of the posts.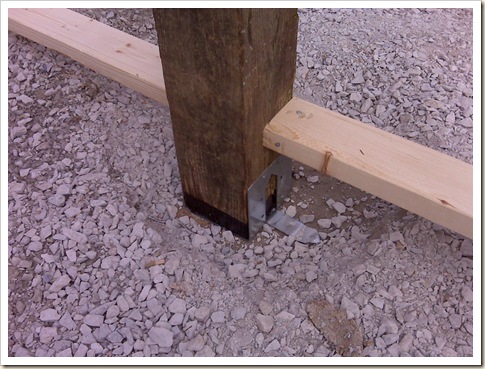 It was another nice cool day, mostly cloudy, high of 51 degrees.  Good day for work!  The customer decided that he wants a large garage door on the front.  So, after discussing the details with the garage door tech, we dug and poured two new piers.  We will have to frame in the sides on the front of the building to accommodate for the large door.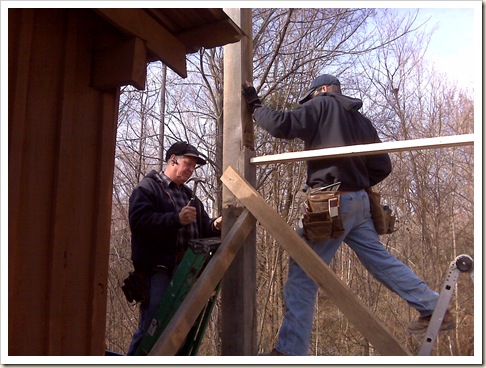 Easy there little brother!  Don't fall pumpkin!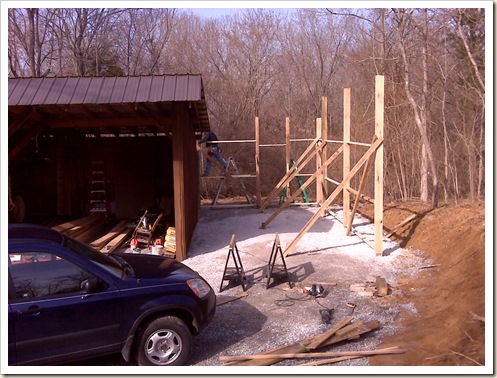 Next step is to frame for the garage door, set the beams, then cut down the tops of the posts so they follow the roof line.