We started a house this week on some property near the Lake of Egypt.  It will have a walk-out basement, which means a basement that is partially underground with one side completely out of the ground.  The side out of the ground is usually framed construction while the sides in the ground are block or solid concrete walls.
This will be a finished basement, so keeping it a dry basement is a tip top priority!  One of the best ways to keep water away from basement is the use of the form-a-drain product from CertainTeed.  This product functions as a permanent drain for water and a radon collection system.
Form-a-drain is basically rectangular shaped plastic pipes that "form" the sides of the concrete footing that your basement sits on.  The pieces that we are using in the photo above are 6" tall.  We want 8" deep footings so we raise the pieces up 2" off of the ground.  We use a laser level to make sure all the footings are level.  We'll use gravel fill along the sides to keep the concrete from spilling out from underneath the forms.  In the above picture, you can see the installations of a circular drain pipe that will carry any water under the basement floor to the outside of the structure.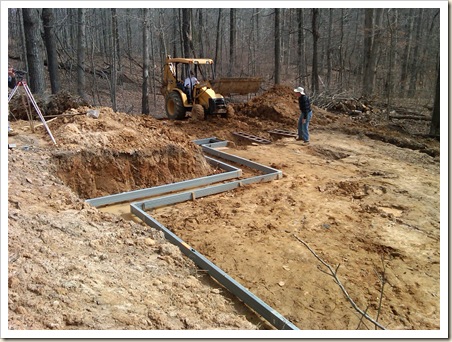 The whole thing is held together by stakes and screws.  Once the gravel is put into place, then we get to pour the concrete!  We are hoping the weather holds out.  When it rains, this job site turns really muddy!!!