Today was a nice cool, dry day to work.  It was a day to make some real progress!
Water Drainage
The way to keep water out of a structure can be seen in what we did at the George Barn Bay project.  After cutting down the grade and leveling the building pad, it is time to give consideration to drainage.  After discussing options with Pastor George, we began laying in a perforated 4" pipe across both the existing barn structure and the future addition.
For this type of drainage system, we dig down about 12 inches, then lay in about 2 inches of 1 1/2 clean rock.  We then lay down the perforated pipe, always making sure that the perforated side is facing up.  Before burying the pipe with more clean rock (clean means no dust), we cover the pipe with a landscape cloth.  This cloth keeps the pipe from eventually filling with soil.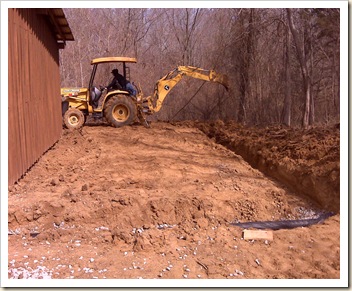 In our solution for this job, we ran the pipe across the front and down the side of the structure.  This way the pipe will catch rain water run off from two sides of the building.
You cap one end and leave the other end covered with a critter guard.  We then bury the whole pipe with clean rock.  This much rock will allow Pastor George to drive his heavy tractor in and out of his barn  bays without crushing the pipe.
Now he is ready for the big rains that are forecasted for today!  Next week, put in the gravel fill and we start the barn structure!